Research and Development
(Subsurface Microbiology Research Group)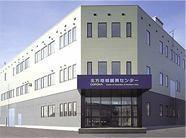 Northern Advancement Center for Science & Technology
H-RISE
5-3 Sakaemachi, Horonobe-cho, Teshio-gun, Hokkaido, 098-3221, Japan.
TEL+81-1632-9-4112
FAX +81-1632-9-4113
Research Topics & Publications
Ueno A, Shimizu S, Hashimoto M, Adachi T, Matsushita T, Okuyama H, Yoshida K (2017) Effects of aerobic growth on the fatty acid and hydrocarbon compositions of Geobacter bemidjiensis BemT. Journal of Oleo Science 66:93-101.
Yoshida K, Hashimoto M, Hori R, Adachi T, Okuyama H, Orikasa Y, Nagamine T, Shimizu S, Ueno A, Morita N (2016) Bacterial long-chain polyunsaturated fatty acids: their biosynthetic genes, functions, and practical use. Marine Drugs 14:
Shimizu S, Ueno A, Tamamura S, Naganuma T, Kaneko K (2013) Methanoculleus horonobensis sp. nov., a methanogenic archaeon isolated from a deep diatomaceous shale formation. International Journal of Systematic and Evolutionary Microbiology 63: 4320–4323 (adopted in cover photo).
Shimizu S, Akiyama M, Ishijima Y, Hama K, Kunimaru T, Naganuma T (2006) Molecular characterization of microbial communities in fault-bordered aquifers in the Miocene formation of northernmost Japan. Geobiology 4:203-213.

Major Equipments
1. Anaerobic Chambers (Hirasawa Co., Ltd)
2. Deoxygenized Gas Pressure & Replace Injector:GR-8 (SANSHIN INDUSTRIAL Co., Ltd / GR-8)
3. Gas Chromatograph-Mass Spectrometry (JEOL Co. Ltd / JMS-Q1050GC)
4. Liquid Chromatography (SHIMADZU Co. Ltd / LC20A)
5. Gas Chromatography (SHIMADZU Co. Ltd / GC-8A, GC-14B, GC-2010 Plus)